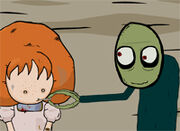 Picnic
is the fifth episode featured in the
Salad Fingers
series.
Salad Fingers talks to an apparently broken and disconnected phone, asking the operator to connect him to his "old pal Charlie" so he can invite him to a picnic, but only garbled noises are heard. Whilst describing the picnic fare, Salad Fingers rubs his stomach in hunger, then claims to have been rudely disconnected. Hubert Cumberdale is on one of the fingers on Salad Fingers' other hand, but he seems dismayed to see him. Instead of referring to him as Hubert, he instead unexpectedly calls him "Barbara Logan-Price," and gives him a "friend-hat," which is a miniature captain's hat.
In the next scene, Salad Fingers wears a bridal train and talks to himself in a mirror, declaring "You look so beautiful". He then goes outside for his picnic, (without the bridal train) which is attended by a strange crow (which appears in other David Firth cartoons) and a little girl with scars on her face, a filthy, stained pink dress, and orange hair. Salad Fingers asks the orange-haired girl a question and answers it for her (as he seems to think that only he can speak), ending with "replied Mable". Salad Fingers calls her his new playmate and compliments her on her dress, and as he does this, Marjory Stewart-Baxter is seen in the window, presumably jealous. Salad Fingers offers "Mable" some "Pease Pudding", which he feeds to her with a dirty, rusty spoon. The crow then swoops down and steals Salad Fingers's spoon.
The little girl giggles and says that the crow must like spoons too. The shock of the girl speaking to him in English and not via Salad Fingers's own voice drives instantly Salad Fingers to temporary insanity, hallucinating, hearing screeching, distorted noises, and seeing the girl (complete with empty eye sockets) saying, "What's wrong, Mr. Fingers? Do you not like my mouth-words?"